Kintara's Participation in the GBM AGILE Study Explained at the GBM Summit
Kintara's VAL-083 has been selected to participate in the landmark GBM AGILE study. GBM AGILE is a platform trial designed to evaluate multiple therapies in newly-diagnosed and recurrent GBM. Its goals are to identify effective therapies for glioblastoma and match effective therapies with patient subtypes. A patient subtype of particular interest is the newly-diagnosed unmethylated MGMT population because there really is no effective standard-of-care here.
The idea was to create an infrastructure, a platform trial that would allow for a turnkey GBM drug development solution for pharma.
- Dr. John de Groot, Professor, Department of Neuro-Oncology, MD Anderson Cancer Center & co-Principal Investigator in GBM AGILE study for VAL-083.
GBM AGILE is being conducted, on a global basis, by The Global Coalition for Adaptive Research (GCAR). GCAR is a non-profit organization uniting physicians, clinical researchers, advocacy and philanthropic organizations, pharmaceutical companies, academia, and regulatory authorities to expedite the discovery and development of treatments for patients with rare and deadly diseases. In this case, GCAR has turned its vast resources on GBM.
Key strategic partners for the GBM AGILE trial effort include the National Brain Tumor Society, National Foundation for Cancer Research, and Asian Fund for Cancer Research. Most importantly, the study design of GBM AGILE has been vetted by the U.S. FDA, and any data generated from the study will be used by Kintara to support a New Drug Application (NDA) for VAL-083, should the study results support such a filing. Furthermore, because GBM AGILE is a collaborative effort among multiple stakeholders, the overhead costs are shared. Currently, two other companies, Bayer and Kazia Therapeutics, have also been selected to participate in the program.
The adaptive platform allows for rapid, multi-center clinical assessment and for adding new therapies in a very cost-efficient manner. The primary objectives of the study are to find therapies that improve overall survival.
- Dr. John de Groot
GCAR began recruiting and randomizing patients for treatment with VAL-083 in early January, 2021. However, the GBM AGILE study has been up and running since 2019 and has over 35 U.S. sites already recruiting patients for this study, which provides a great opportunity for Kintara to jump right into an active, strongly-supported, FDA-approved study, saving significant time and cost versus initiating a single company development effort.
With the recognition of GCAR and the GBM AGILE study by top academic and medical centers around the world, Kintara anticipates rapid enrollment for its VAL-083 arm of 150-200 patients. Importantly, VAL-083 is the only therapeutic agent currently being evaluated in all three GBM patient subtypes: newly-diagnosed methylated MGMT; newly-diagnosed unmethylated MGMT; and recurrent GBM. The primary endpoint is overall survival (OS).
Our experience at MD Anderson with VAL-083 has been very encouraging. We have patients that realize that they're MGMT unmethylated, and fly in, really from all over the world, to get onto the clinical trial with VAL-083.
- Dr. John de Groot
VAL-083 Phase 2 Data Background
Throughout 2020, Kintara investigated VAL-083 in two open-label Phase 2 clinical trials. One at the Sun Yat-sen University Cancer Center in China, and a second at MD Anderson Cancer Center in Houston, Texas.
The trial at Sun Yat-sen enrolled newly-diagnosed first-line patients. Twenty-nine patients were given VAL-083 along with radiation therapy after primary surgery. Results presented in November, 2020 at the SNO meeting for the 25 evaluable patients taking the optimal 30 mg/m2/day dose showed the median progression free survival (PFS) to be 8.7 months (CI 6.4-12.5 months). The trial at MD Anderson enrolled patients in both the newly-diagnosed adjuvant and the recurrent disease settings. In the newly-diagnosed adjuvant setting, data from 27 evaluable patients all treated with 30 mg/m2/day showed an impressive median PFS of 10.0 months. While not head-to-head studies, the PFS data above compares favorably to results from published data in similar newly-diagnosed patients receiving temozolomide (TMZ) plus radiation that showed PFS of 5.3 months1 and 6.9 months2, respectively. Data on OS, which is currently tracking around 16 to 18 months also compares favorably to these historic controls.
In the recurrent setting arm of the MD Anderson study, data from 43 patients treated at the 30 mg/m2/day showed a median overall survival (mOS) of 8.5 months (CI 6.8-13.7 months). This study continues, and while not a head-to-head trial, historically, lomustine, which is the most commonly used chemotherapy for these patients, has demonstrated a mOS of 7.2 months3. Lomustine has very significant side-effects that limit its more wide-spread use. Full data from these patients are expected to be published shortly.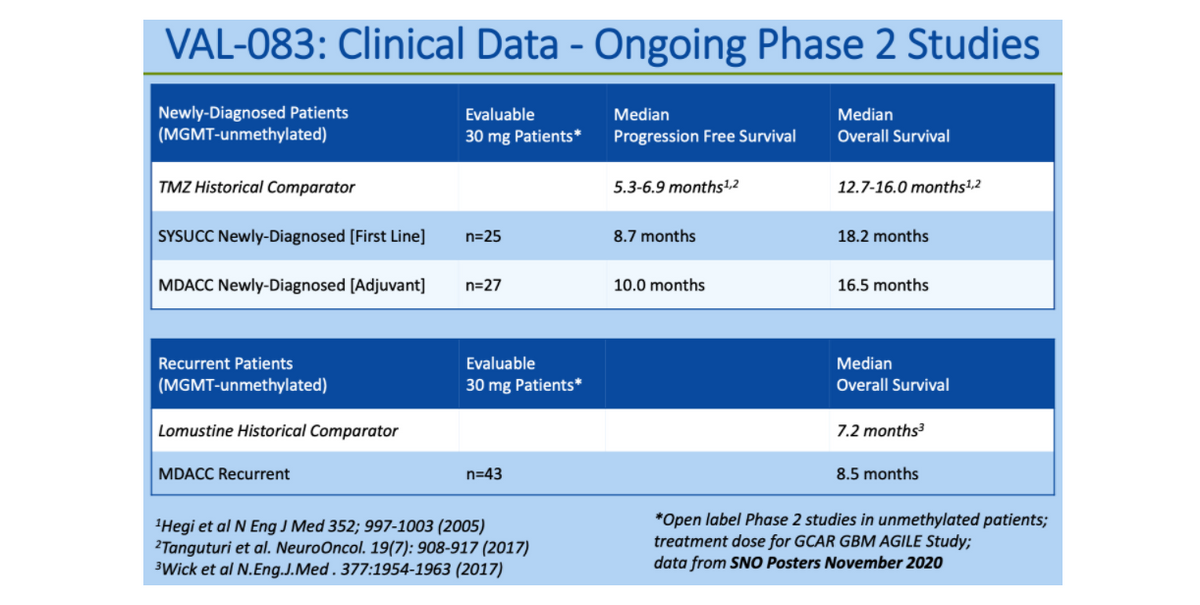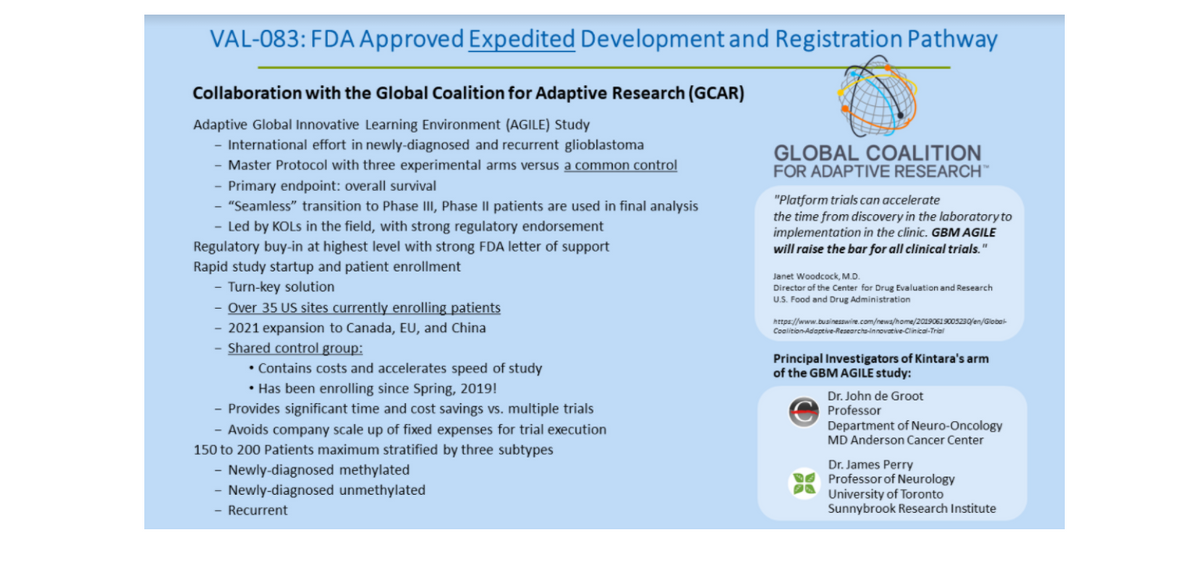 A Significant Opportunity
Glioblastoma is a significant unmet medical need. The five-year survival rate is less than 5%. The current approved first-line treatment, temozolomide (TMZ), was approved in 1999 and has been generic since 2010. VAL-083 works in a similar manner to TMZ in that both are alkylating agents that target and break DNA strands in cancerous cells. However, TMZ is a mono-functional alkylator and only causes a single-strand DNA break. About 60% of GBM patients possess an enzyme that works to repair the single-strand break caused by TMZ. These MGMT unmethylated patients have poor treatment response and prognosis compared to MGMT methylated patients. They often receive only radiation and when the tumor recurs have an overall survival of only a few months.
VAL-083 is a first-in-class bifunctional alkylating agent with promising activity in both MGMT unmethylated and methylated glioblastoma. The unique mechanism of action damages the DNA across both of the DNA strands, inducing an irreparable DNA cross-link, leading to lethal double strand breaks. VAL-083's unique cytotoxic mechanism circumvents MGMT-mediated DNA repair which is associated with the chemo-resistance observed with temozolomide.
Patients that have (an) unmethylated promoter, have essentially no effective systemic therapies. The backbone of GBM therapy really are these alkylating agents, where the mechanism of action is well understood...So having a drug that's available, that can work in unmethylated disease, would change the conversation so much.
- Dr. James Perry, Professor of Neurology, University of Toronto Sunnybrook Research Institute & co-Principal Investigator in GBM AGILE study for VAL-083.
Intravenous VAL-083 effectively crosses the blood brain barrier and achieves peak CSF concentrations 20% higher than corresponding plasma levels, a stark contrast to TMZ which is poorly transported into the brain and achieves peak plasma levels that are 80% lower than plasma concentrations. The treatment revenue market for GBM, considered a Grade IV brain tumor, is estimated to grow from $800 million per year in 2018 to $1.4 billion by 2027 (GlobalData, November 2018).
Management Astutely Capable
The turnaround at Kintara Therapeutics is underway. The merger with Adgero Biopharmaceuticals closed in August, 2020 and between the closing of the merger and the end of 2020, Kintara raised approximately $25 million in new capital to advance its late-stage pipeline. The inclusion of VAL-083 in the GBM AGILE study is the latest in a string of milestones led by Kintara's President and CEO, Saiid Zarrabian, who has been with the company since late 2017. Notably, among Mr. Zarrabian's past achievements include his time as Chairman of the Board for La Jolla Pharmaceuticals.
---
ABOUT KINTARA
Located in San Diego, California, Kintara is dedicated to the development of novel cancer therapies for patients with unmet medical needs. Kintara is developing two late-stage, Phase 3-ready therapeutics for clear unmet medical needs with reduced risk development programs. The two programs are
VAL-083
for GBM and
REM-001
for CMBC. VAL-083 is a "first-in-class", small-molecule chemotherapeutic with a novel mechanism of action that has demonstrated clinical activity against a range of cancers, including central nervous system, ovarian and other solid tumors (e.g., NSCLC, bladder cancer, head and neck) in U.S. clinical trials sponsored by the
National Cancer Institute (NCI
). Based on Kintara's internal research programs and these prior NCI-sponsored clinical studies, Kintara is currently conducting clinical trials to support the development and commercialization of VAL-083 in GBM. Kintara is also advancing its proprietary, late-stage photodynamic therapy platform that holds promise as a localized cutaneous, or visceral, tumor treatment as well as in other potential indications. REM-001 therapy, has been previously studied in four Phase 2/3 clinical trials in patients with CMBC, who had previously received chemotherapy and/or failed radiation therapy. With clinical efficacy to date of 80% complete responses of CMBC evaluable lesions, and with an existing robust safety database of approximately 1,100 patients across multiple indications, Kintara is advancing the REM-001 CMBC program to late-stage pivotal testing. SAFE
HARBOR STATEMENT
Any statements contained in this press release that do not describe historical facts may constitute forward-looking statements as that term is defined in the Private Securities Litigation Reform Act of 1995, including statements regarding the status of the Company's clinical trials and the
GBM AGILE study
. Any forward-looking statements contained herein are based on current expectations but are subject to a number of risks and uncertainties. The factors that could cause actual future results to differ materially from current expectations include, but are not limited to, risks and uncertainties relating to the impact of the COVID-19 pandemic on the Company's operations and clinical trials; the Company's ability to develop, market and sell products based on its technology; the expected benefits and efficacy of the Company's products and technology; the availability of substantial additional funding for the Company to continue its operations and to conduct research and development, clinical studies and future product commercialization; and, the Company's business, research, product development, regulatory approval, marketing and distribution plans and strategies. These and other factors are identified and described in more detail in the Company's filings with the SEC, including the Company's Annual Report on Form 10-K for the year ended June 30, 2021, the Company's Quarterly Reports on Form 10-Q, and the Company's Current Reports on Form 8-K.
For more information, please visit
www.kintara.com
or follow us on Twitter at
@Kintara_Thera
,
Facebook
and
Linkedin
.